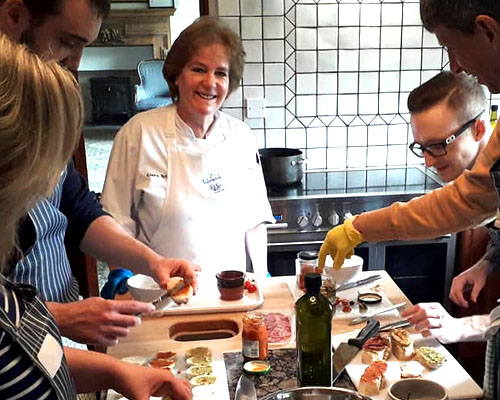 Celebrating 32 Years
Claire Tuttey founded The Manor School of Fine Cuisine in 1987.

"My purpose is to pass on to Students the pleasure of serving delicious food with style and confidence.
I started in a simple and unsophisticated way, teaching in the kitchen of my own home. Admittedly it was a very large kitchen, in the Georgian manor house. Within six months of opening The Manor School of Fine Cuisine, a training kitchen was purpose built and designed along the lines of the Cordon bleu kitchens in London where I had trained, only much larger.
We have now undergone 32 years of progressive development and are now located in the schools 5th. 'home' at Manor Park, going back to the comfort of a house kitchen in spacious, relaxing surroundings.
We have been credited, every year, with 5 star business rating from our borough council, Rushcliffe.The facilities and reputation have been instrumental in attracting not only new and repeat guests but also highly qualified and experienced assistant teaching staff.
We are delighted that Andrea Wallace a senior lecturer from Leith's School of Food and Wine is amongst our staff.
Each of our Chef's / teachers guiding a maximum of 5 guests during each course, this gives really personal expert tuition. With kitchen porters in attendance to wash up, clear, clean up, serve drinks and refreshments during the practical sessions, our guests can relax and really enjoy their cooking experience at the school."

Claire Tuttey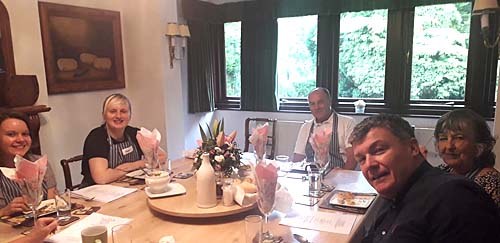 The Manor School of Fine Cuisine

The school is located in Stanton on the Wolds, which lies to the South West of Nottingham, on the A606 (Melton Road), 4 miles from the Nottingham ring road.
The spacious accommodation is set in extensive grounds with ample parking and relaxation areas. The aim has been to create an informal, friendly and comfortable environment.
At The Manor School of Fine Cuisine we are proud of our excellent local producers and we have no hesitation in supporting them. We know where all foods supplied to the school are grown, how the animals are reared and treated. What breeds are preferable and that animals are reared at a natural pace allowing them to slow mature, that they are hormone and antibiotic free.
The courses are designed to make maximum use of the excellent fresh local produce of Nottinghamshire, Leicestershire, Lincolnshire, Derbyshire and our surrounding counties. We will be using local ingredients direct from the farms and producers. Food that has a known history and origin. Food that is good for you, your budget and the environment. Food with provenance.
The School provides multiple activites, all designed to impart an enthusiasm for fine living.
The Manor School of Fine Cuisine Ltd., Manor Park, 134 Melton Road, Stanton on the Wolds, Nottingham, NG12 5BQ.